Save on home energy expenses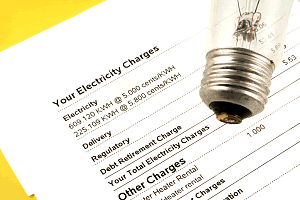 In general, this is where the money goes on a home energy bill:
| | |
| --- | --- |
| Heating and cooling | 50% |
| Hot water | 25% |
| Cooking | 10% |
| Appliances | 10% |
| Lights | 5% |
It seems to me that, while no savings should be ignored, it makes little sense to spend a lot of money buying energy-saving light bulbs and then sitting in half-light while you are wasting the big dollars elsewhere.
The place to start is with insulation. Through the ceiling and the roof is where you lose the most heat. And the next biggest waste is in hot water. Tackle these problem areas as a priority.
Here are my top tips for reducing your energy expenses. If you are investing for the future, install the following:
Solar panels
Ceiling insulation batts
Double glazing
Timers and thermostats on your hotwater system and home heating
Energy-efficient heaters/air-conditioners, appliances, TVs and computer monitors. (Plasma screens are more energy-hungry than LCDs, and desktop computers are heavier on energy than laptops.)
If you can't afford to spend to save, then here are the easiest, cheapest ways to cut your expenses while not savagely reducing your quality of life. A little effort, and some new habits, will put money in your pocket.
Close curtains and blinds to stop heat loss in winter and, when you are out during the day in summer, to keep cool air in and hot air out.
Seal gaps in the walls, floors and around window and door frames. Block that unused chimney. Use a draught-excluder under doors that lead outside. Close doors to unused rooms.
Don't overheat/overcool. One or two degrees almost certainly won't affect your comfort but will make a BIG difference to your power bill.
Shower rather than bath. Cut your shower time just a little. The new habit won't leave you feeling deprived but it will reduce day-by-day expenses that add up over the months.
Don't run hot water when cold will do. Even a seemingly small amount of hot water routinely left to go cold in the pipes is a serious waste when it's added up several times a day, day after day.
Don't leave hotwater taps dripping. Close them properly and fix worn-out washers.
The microwave and an electric frypan use less electricity than the oven and cooktop.
The TV, the sound system and all computers and appliances that are on stand-by mode should be turned off at the wall when not in use.
Run the washing machine and dishwasher only when you have a full load and use the "economy" setting if possible.
Switch off lights in rooms that are not in use.
COMMENTS:
Complete this form to submit your comment on this article.
(* required fields).